Being based in San Francisco's busiest shopping district and main tourist attraction has its perks. Not only are we the first to find out about amazing sales, but we also get exposed to an array of fashionable shoppers from around the world. Whether affordable & simple, luxurious & classic, or new & trendy, Union Square is the prime location for fashion trend spotting. With this knowledge in tow, we stalked some unassuming, friendly shoppers and took some snaps. Check them out below.
Nicole says she is a very simple clothing shopper who enjoys snagging good deals. Target, Forever 21, and H&M are some of Nicole's favorite places to find stylish yet affordable clothes.
Outfit: H&M checkered shirt, Forever 21 striped skirt, and Adidas Samba shoes
Vincent is from Spain and loves to travel, making sure to be both stylish and comfortable during his trips. Vincent's favorite clothing stores when he is in the U.S. are Zara and American Apparel.
Outfit: Paul Smith jean button-up shirt, Cotton On khaki shorts, and New Balance 574 shoes (Athletic shoes and above-the-knee shorts are trending as a standout duo in men's fashion.)
Nia struck a quick pose during her lunch break. Nia likes to leave the office everyday to get some fresh air, and we're glad she does so we have a chance to see her other Nordstrom dresses!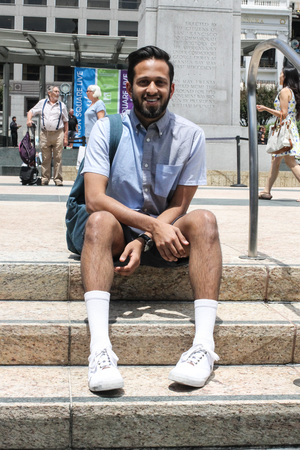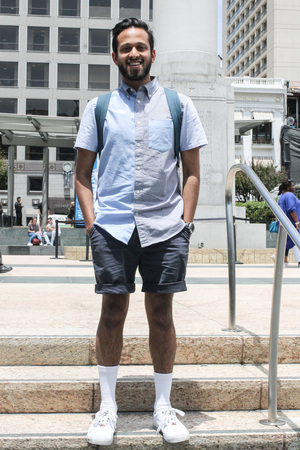 Nile flew all the way from New York City to see some Bay Area buddies. Nile is sporting tube socks with matching white Polo sneakers for a monochromatic look that's understated yet put-together.